Journey into History | On the Bike not only to see Nativity Scenes | Baroque North | To Kunětická Hora | Around the Woods in the Hradec Region | Orlice River Nature Reserve | cyclobuses - Timetables
On the Bike not only to see Nativity Scenes : Třebechovice pod Orebem, Týniště nad Orlicí
( 44.2 km, an averagely demanding route, mountain bikes )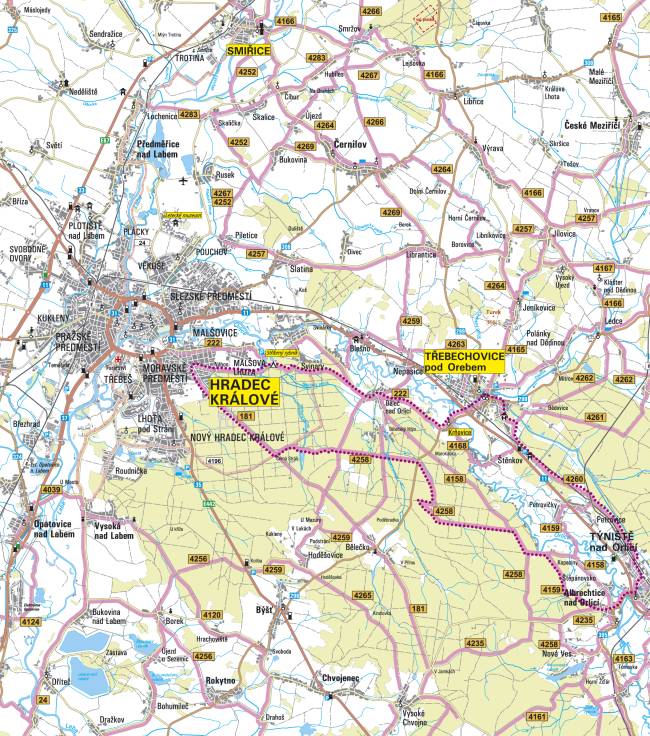 This route leads through beautiful scenery. You ride through picturesque forests, mysterious nooks and crannies around ponds and the River Orlice. Meanders of the River Orlice have been declared Protected Natural Park. Cultural sights of the towns of Třebechovice pod Orebem and Týniště nad Orlicí are the destination of the journey.
The route begins and ends in Hradec Králové - Malšovice. On the way to Třebechovice you will ride past Stříbrný rybník (the Silver Pond), Běleč Mill (cycle route - green) and Krňovice (cycle route no 222). Třebechovice - Týniště (cycle route no 4260). From Týniště you will go past Suté Břehy (cycle route no 4159 - 4258) and can take a rest near the Výskyt Pond (cycle route no 181).
---
Projekt je podporován Královéhradeckým krajem.