Journey into History | On the Bike not only to see Nativity Scenes | Baroque North | To Kunětická Hora | Around the Woods in the Hradec Region | Orlice River Nature Reserve | cyclobuses - Timetables
Baroque North : Josefov, Kuks, Velichovky, Smiřice
( 61.5 km, an averagely demanding route, road and trekking bikes )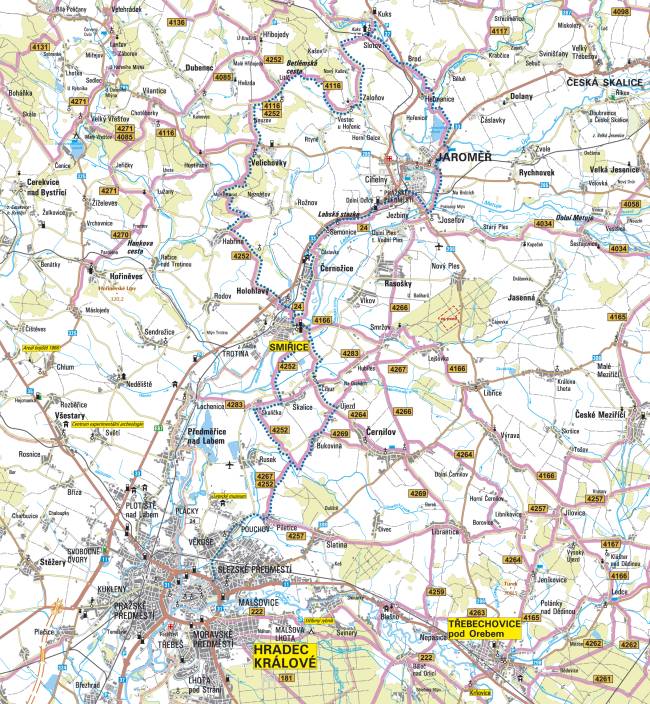 This route leads through slightly undulating terrain, which will suit even more proficient cyclists. The route is demanding mainly due to its length. On sunny and bright days cyclists can feast their eyes on the beautiful views of the Krkonoše Mountain as well as the Elbe basin. Some parts of the route lead along or cross over busy roads and that is why it is necessary to be very careful. The main destination of the journey is the Baroque monuments: the Josefov Fort, the spa town of Velichovky and Kuks Castle, however the Baroque chapel with the altar painting "Adoration of the Magi" by Petr Brandl in Smiřice is also definitely worth seeing.
From Hradec Králové you will set out from Pouchov via Piletice and Bukovina (cycle route no 4267) to Smiřice (cycle route no 4264). From there go to Jaroměř and Josefov (cycle route no 24). Behind Heřmanice you will aim for Kuks (cycle route no 24), from there you will reach Velichovky (cycle route no 4116). The journey back takes you through Smiřice (cycle route no 2452) to Rusek and then to Hradec Králové (cycle route no 2452).
---
Projekt je podporován Královéhradeckým krajem.