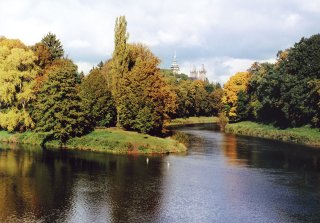 Hradec Králové lies in north-eastern Bohemia at the confluence of the Labe and Orlice rivers. It ranks among the biggest and most important cities in the Czech Republic. With its pleasant environment and a lot of green spaces it is a Czech metropolis where state institutions, banks and large firms are based. There are also six faculties of three universities, a museum, galleries, theatres and other cultural and sports organisations. At present, the population of Hradec Králové is over one hundred thousand.
The history of the region where the Labe and Orlice rivers come together dates back to prehistoric times, as archaeological findings from the prehistoric and Roman period and the times of Slavonic fortified settlements reveal. The first significant written reference to Hradec Králové is in the document of King Přemysl Otakar I from 1225. This document proves that Hradec Králové ranks among the oldest cities in Bohemia.
Later Hradec Králové became a royal dowry town. The time of Queen Eliška Rejčka in Hradec Králové left considerable traces on the face of the town. Her stay here was closely connected with the construction of a well-known landmark - gothic Church of the Holy Spirit. During the renaissance period, many domestic and foreign scholars and craftsmen worked here. Due to their efforts another of the town's dominants - The White Tower was built.
For its significant strategic position, Hradec Králové was converted into a flawless military stronghold during the reign of Maria Theresa and Joseph II. After the decisive battle between the Austrian and Prussian armies on the nearby Chlum hill on 3 July 1866, the stronghold was destroyed, the fortification walls pulled down, and the construction of a modern town started. The historic centre, since 1962 a historic preserve, is a respectable counterpart to the new town of modern districts, squares and streets with a number of monumental buildings, which were designed by the best 20th-century architects in the Czech Republic. The influence of the mayor František Ulrich in the process of enforcing the new development policy of the town was decisive. Due to a consistent regulation plan a unique modern centre was built. Several remarkable buildings in Hradec Králové were designed by Professor Jan Kotěra (1871 - 1923). The Museum of Eastern Bohemia built between 1909 and 1912 ranks among the most magnificent projects of this renowned Czech architect. Professor Josef Gočár (1880 - 1945), Kotěra's former student, continued in the construction according to modern principles of regulation and urban planning. The city's urban planning, great works of architecture, the conception of the land use plan, and high quality services attracted a number of domestic and foreign admirers, professionals so as common visitors. As a result of their earnest interest, the city was nicknamed the "SALON OF THE REPUBLIC". The unique 20th-century architecture of Hradec Králové is known not only in the Czech Republic but also in different corners of Europe. The city's architecture is represented by the above mentioned Museum, a complex of houses on Masaryk Square, J. K. Tyl's Grammar School, a bridge with hydroelectric station, Gočár's Staircase, several school buildings with typical red brick walls and many other constructions. Apart from architects Gočár and Kotěra, other prominent professionals worked here and due to their efforts, works of architecture incomparable with similar constructions in other Czech cities were built in Hradec. One of Hradec Králové's rarities is the wooden Eastern Orthodox Church of St. Nicholas in Jirásek's Gardens, which was transported from Malá Polana in Carpathian Ruthenia in 1935.
Regular events
When
Title and description
March
Entrée to dance - contemporary dance festival for ensembles from the Czech Republic and abroad.
May
On One Side of the River - alternative mix of genres: ethno, jazz, funky and world music.
June
Folklore Festival Pardubice - Hradec Králové - international folklore festival of folk traditions, songs and dances taking place in the theatre, streets of Pardubice and Hradec Králové, and on Šrámek's farmstead in Piletice.
June
European Regions Theatre - the biggest theatre festival in Central Europe. Performances will be held in theatres, on alternative stages on the square and in the streets of Hradec Králové. About a hundred and fifty theatre groups from Europe and overseas participate in the festival.
July
Memorial festival of the battle of Hradec Králové 1866 - an event to commemorate the battle between Austrian and Prussian armies. Reenactment on authentic places of fighting with cavalry, fire and artillery effects.
August
Hip Hop Kemp - three days of music, rhythms and adrenalin sports.
September
Queen Eliška's Festival - at the first September weekend the city returns to the Middle Ages. The historic centre comes alive with medieval plays, horse tournaments and craftsmen market.
October
Jazz Goes to Town - the biggest encounter of jazzmen from different parts of the world. Concerts take place in the old town pubs and clubs and other concert halls.
October-november
Hradec Music Forum - festival of orchestral and chamber ensembles from home and abroad.
December
Christmas Markets and New Year's Fireworks - the charm of Christmas in the town centre. The end of the year will be celebrated by fireworks on Velké Square (Velké náměstí).
Giant Aquarium
January-December
Scuba Diving Show - every Thursday from 1 pm to 3 pm fish feeding and diving.
1st June
Children's Day - tour of the aquarium with gifts and surprises specially suited for children.
December
St. Nicholas and Christmas Surprise -
Botanical Garden of Medical Plants
June-july
Exhibition of Medical Plants and Ceramics -
November
Open Door Day - come along to see the jewels of flora for free.
Museum of Aviation
June
European Veteran Airshow - the international aviation day takes place at the last weekend in June bringing lively examples from the history of aviation, aerobatic flights and a truly spectacular show.
Labe Steamers
July
Steam Fans' Riverbank - a unique show of functional historic and present-day steam-powered machines. Model boats and sightseeing cruises.
Autocamping Silver Pond
January-december
Fishing at Silver Pond - come along to catch some fish here.
May
Fishing Contest - every year the local branch of the Czech Fishing Association invites those keen on fishing to take part in this contest.
May
Children's Day - experience a day full of surprises and children's joy at the campsite. Different games are prepared not only in the playground.
June-july
Christmas and New Year's Eve at Silver Pond - experience quite unusual Christmas and New Year's Eve in the middle of summer!