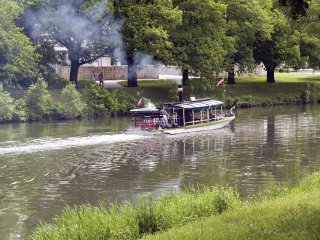 Unique streamers such as Primátor and Queen Eliška or Pirates' sailing boat plough through the waters of the Labe River. The sightseeing cruise provides an unusual view of Hradec Králové landmarks and romantic corners of the Labe riverbanks.
About an hour long cruise starts at the dock on Smetanovo nábřeží (Smetana's riverbank) opposite the City Spa. The steamers will take you past Kotěra's Museum of Eastern Bohemia to the splendid Sander's hydroelectric power station and then upstream the river through picaresque suburban landscape to the stone bridge Na Pláckách and to city district Předměřice. With your own eyes you can see how the steam engine works and admire transportation that used to be quite common earlier. In the dock, you can also borrow a boat (for four persons each).
Every year, the provider, Hradec Steam Shipping Company, organises a meeting of the friends of steam engines, in which you can participate both as audience or exhibitors. You can see models of steam boats, miniatures ofsteam engines, and historical exhibits, steam fire engines, steam lorries, and merry-go-rounds. You can also connect your visit of this festival with a lovely boat ride.
Opening hours
: May - October, Monday - Friday: 3 pm - 8 pm, Saturday, Sunday: 10 am - 8 pm, other times by prior arrangement
Address
: the docks at Smetanovo nábřeží
Contact
: Jaroslav Kostkan, Na Obci 41, 503 41 Předměřice nad Labem phone: +420 777 009 143,
www.paroplavba.wz.cz
Regular events

| When | Title and description |
| --- | --- |
| July | Steam Fans' Riverbank - a unique show of functional historic and present-day steam-powered machines. Model boats and sightseeing cruises. |