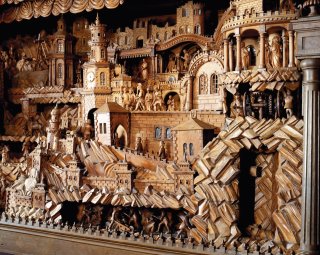 The rather modest Oreb hill, which lies at the confluence of the Orlice and Dědina rivers, became one of the symbols of a town located about ten kilometres to the east of Hradec Králové - Třebechovice.
The town was established along a significant trade route in the first half of the 14th century. There is a legend connected with the origin of the town's name. It says that a group of people led by Třeboch settled down on the right bank of the Dědina River, on a place which is called the Old Town until today. Třeboch founded a settlement there which was called after him. From the 14th century the town was related to the Bohemian family of the Lords of Dubá. The fact that the town was founded by this old Bohemian family is manifested by a tree with pruned branches in their coat of arms which is a part of Třebechovice coat of arms as well.
The period of the Hussite Wars stands out in the rich and long history of the town. Priest Ambrož became the leading figure of the Hussite movement in the region of Hradec Králové. He got together with the villagers and minor gentry and set up a combat brotherhood, which gathered at a mass meeting in April 1419 on the hill Vinice nad Třebechovicemi. The combat brotherhood later changed its name to the Orebites. Lead by Hynek Krušina of Lichtenburk they went to war against cloisters.
For centuries Třebechovice was a town governed by aristocracy, for example by the families of Trčka of Lípa or the Colloredos. The town did not prosper under their rule too much. The town started to flourish only in the second half of the 19th century with the development of technology, education, school system and political life. This development is also related to the events of 1849 when Třebechovice ceased to be a town governed by the family of Opočno and became a free town.
There are a number of places of historical interest to be seen in Třebechovice such as St. Andrew's Church renovated in baroque style in 1767 - 71, the Town Hall from 1838 on the square so as the neoromanesque evangelical church built in 1880. So as in many other towns, there is also a Marian column and an early baroque fountain from 1675. However, Třebechovice's major attraction is a work unique all over Europe -
Probošt's Nativity Scene
, which is found in the Třebechovice Museum of Nativity Scenes with other interesting collections.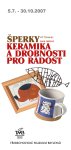 Regular events

| When | Title and description |
| --- | --- |
| February | Shrovetide - Masques parade and celebration in the town. |
| May | Mothers' Day - celebrating the Mothers' Day on Masaryk Square (Masarykovo náměstí) in Třebechovice. |
| July | Ledce Footbridge - both traditional and unusual water sports and a celebration; first July weekend in Ledce. |
| September | Fairyland Forest - a walk for children and adults through a forest full of fairytale characters and contests; it takes place on the first Saturday in September. |
| September, october | Symposion - amateur theatre clubs show. |
| November | Kateřina's Fair - |
| December | Advent concerts, Christmas programme in the Museum of Nativity Scenes - |
detailed information: http://www.betlem.cz/en/