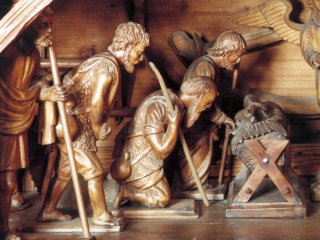 The collection in the Museum of Nativity Scenes comprises more than four hundred extraordinary exhibits. So-called
Probošt's nativity scene
from the 19th century is the most famous one.
It incorporates more than two thousand carved figures and parts which are set in motion by a unique mechanism. When creating the nativity scene, its author, woodcarver Josef Probošt, cooperated with another experienced woodcarver Josef Kapucián. The mechanism that sets the scene in motion was made by Josef Friml. The nativity scene is seven metres long, more than three metres wide and nearly two metres high.
Christmas crib with the Holy Family and bowing shepherds is the central motif of the scene. The surrounding terraces show the lives of common people and craftsmen, inspired by real people living in Třebechovice and surrounding villages. The remaining terraces show biblical scenes from the Annunciation of Virgin Mary to the Crucifixion of Jesus Christ and his Ascension. In front of this nativity scene there is a boy and a girl with tin bowls in hands to show delicately the then visitors where to put the coin for entrance and as a reward for the opportunity to see the nativity scene. The whole nativity scene is closed in by a machine made wooden panels and background, drapery and small wooden turned steeples.
Opening hours
: daily except Mondays, October - April: 9 am - 4 pm, May - September: 9 am - 5 pm, November - closed
Address
: Masarykovo náměstí 24, Třebechovice
Contact
: Museum Information Centre, Masarykovo náměstí 24, 503 46 Třebechovice, tel: +420 495 592 053
www.betlem.cz
Other links:
www.trebechovice.cz