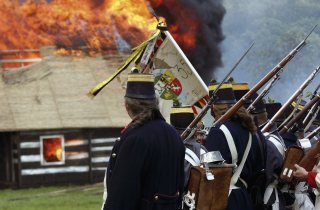 Chlum battlefield lies about seven kilometres from Hradec Králové in the direction of Hořice. On 3 July 1866 the Austrian and Prussian armies clashed here in the decisive battle for the control over Central Europe. The Battle of Hradec Králové, Sadová or the Chlum hill - all the three names remind us of the bloodiest event of the 19th century in Europe. In the shade of Hradec Králové fortress, nearly half a million soldiers of all different nationalities fought. Both the armies lost about fifty thousand men here. The battle took place on an area of about a hundred square kilometres and affected about fifty villages in the region. Fighting occurred for instance in the villages of Probluze, Dolní Přím, or Rozběřice but the Chlum hill was the most crucial place of the battle. The result of the battle, in which the more modern Prussian army resoundingly defeated the Austrian army, determined the political character of Europe for a long time.
The entire area where the battle took place can be well seen from the observation tower on the Chlum hill. Under the tower, there is a museum devoted to this great battle. In memory of the fallen there are about five hundred gravestones as a torso of human tragedy that took place here in July 1866.
The monuments from 1866 are taken care of by the Committee for the Preservation of Monuments from 1866. The history of this committee dates back to the 19th century. Gradually, all monuments on places where Austrian, Prussian and Saxon soldiers rest are being reconstructed.
To commemorate the course of the battle events, the first weekend in July the memorial festival of the 1866 battle takes place on the Chlum hill.
Opening hours
: April - October: daily except Mondays 9 am - 12 am, 1 pm - 5 pm Other months by prior arrangement.
Address
: památník bitvy na Chlumu (The monument of the battle of Chlum), Chlum 66, 503 12 Všestary
Contact
: Muzeum východních Čech (The Museum of Eastern Bohemia), Eliščino nábřeží 465, 500 03 Hradec Králové, Battlefield - phone: +420 495 447 058, +420 495 512 391
www.muzeumhk.cz
Other links:
www.chlum1866.cz
,
www.1866.cz
Regular events

| When | Title and description |
| --- | --- |
| April | Burning the Witches - making of fires on the Chlum hill. |
| May | TT weekend - traditional meeting of fans of model railway in the village of Všestary. You can see not only models of trains but also different steam engines and enjoy a steam train ride. |
| June | Horse Riding Tournament - riding contests in show jumping and dressage on the Chlum hill organised by the horse riding club Selská jízda Nechanice. |
| June | Jan Sedláček's Walk - the top of the Chlum hill turns to a resting place of this walk in memory of Jan Sedláček, a Hoříněves village native. The walk starts and ends in Hoříněves. |
| June | Všestary Mayor Cup in Crossbow Shooting - annual encounter of the Crossbow Shooting Club members from the Czech Republic on the Chlum hill. |
| July | Memorial Festival of the battle of Hradec Králové 1866 - memorial event to commemorate the Austro-Prussian battle. Reenactment of the events on authentic places of fighting with cavalry, fire and artillery effects on the Chlum hill. |