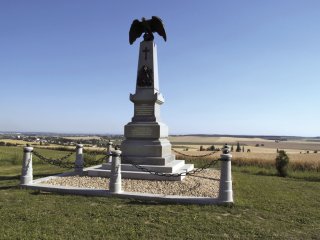 There are two education trails for visitors interested in the 1866 battle. Socalled large ring around the central Chlum battlefield starts at the Museum of the 1866 Battle and leads to the memorial called the battery of the dead and the artillery trench no V. The observation tower offers interesting views of the area of the battle. Red markings will take you past the restaurant "U polních myslivců" (At Field Riflemen's) and the memorial of Kuhn's battery to the village of Lípa. One of the most interesting stops at the battlefield is the mausoleum with a chapel and also a more distant pseudo-gothic charnel- house Ossarium with the monument of Vilém of Lipá. This is the place where remains of the fallen, which are still found in the fields around, are placed. From the charnel-house, the trail follows through the fields to the Prussian cemetery with gravestones. From here, you can continue along the track of the dead all the way to Rozběřice, where further gravestones and a well-known sculpture Deutschmeister are found.
The second education trail starts in the village of Čistěves and leads north to Svíb. On the left, you will find a majestic sandstone pyramid devoted to the memory of the fallen and a massive monument - socalled Field Rifleman. The reminders of the fallen can be found in the Alley of the Dead, which will take you along a number of gravestones and crosses to Máslojedy village. Following the green markings, you will return to the Field Rifleman monument. From Čistěves you can set off to Dlouhé Dvory where the monument to the fallen in the 1866 battle, the obelisk with a bronze eagle, and other gravestones are found. Through Střezetice you will get to Probluze with an early baroque Church of all Saints. Not far from the church, there is a monument with the bust of the Saxon Crown Prince Albert. Around the village of Dolní Přím you will find more gravestones of the fallen, especially near St. Alois's statue outside the village. This is the end of the excursion of the monuments to the 1866 battle.
New trails are constructed in the area of the battlefield to make it easier to explore this fascinating place where the course of the history in the 19th century was decided.