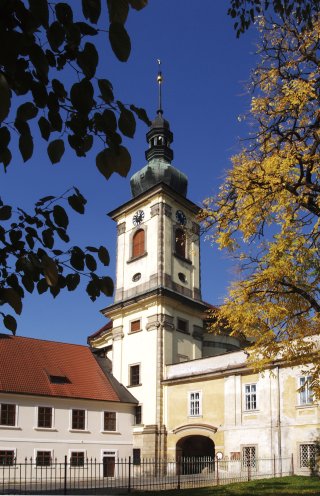 The town of Smiřice lies in the plain along the upper reaches of the Labe River about ten kilometres to the northeast of Hradec Králové in the direction of Jaroměř. The name of the town was most likely derived from the family of Smír. According to the putative chronicle of the Záruba family, the family of Smír lived here already in the 9th century. However, the first written records of the town on the Labe River date back to the 14th century, more specifically to 1361 clearly documenting the existence of Eliška of Smiřice.
The family of Smiřice was a significant family not only for the town. Gradually, they ranked among the richest nobility in Bohemia. During their rule, a stronghold was built in the area of present-day Smiřice. In the 15th century when the manor was ruled by the family of Trčka of Lípa, this stronghold was rebuilt as a castle. A settlement grew around the castle and in 1659 it became a town with the right to use its own coat of arms. In the 17th century the Šternberk family came to the town and built Smiřice's landmark - the baroque Castle Chapel of the Epiphany.
Apart from the chapel, the local railway station ranks among the places of interest in Smiřice. It is the only station in the Czech Republic that was built in the style of a hunting chateau with a so-called "animal ditch".
Regular events
detailed information: http://www.smirice.cz/