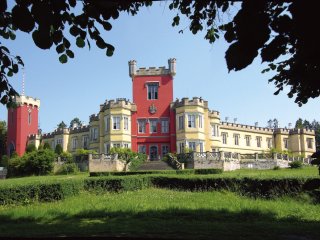 Near the Hrádek village, the Hrádek u Nechanic Castle was built between 1839 and 1857 on so-called Lubenský hill. It was built as a prestige summer residence of the county family of Harrach by František Arnošt, the count of Harrach, an important representative of the Jilemnice family line. A project in the romantic Windsor gothic style by Edward Buckton Lamb (1805 - 1869) was used as a model for the construction of the castle. A young Austrian architect Karl Fischer (1817 - 1856) was in charge of the construction. He adapted the plans and designed the decoration of the castle interiors. Apart from this equipment, made mainly by local craftsmen, a number of antiques mainly from Italy and Austria were transported to the castle. These often included entire altars, ceilings or complete furnishings of the rooms. Along with the construction of the castle, a part of the surrounding woods was turned into an English park (18 hectares) while in the other part a game preserve and pheasantry was established (200 hectares).
The Harrach family, which owned the castle until 1945, ranks among the oldest aristocratic families in Bohemia. The first records of this family come from 1277. Count Jan Nepomuk of Harrach was the most important among the owners of the castle. He was a member of the conservative party Staročeši, a friend of the politician and poet František Ladislav Rieger, and a long-standing president of the Society of the Bohemian Kingdom Museum. In the past, the castle was visited by a number of prominent personalities: in 1866 it was Crown Prince Albert of Saxony, and at the end of the 19th century archduke Franz Ferdinand d'Este, the successor to the Austrian throne, who stopped here on his way back from hunting.
In 1945, Hrádek u Nechanic was designated a national property on the basis of so-called Beneš decrees, and since 1953 it has been open to the public.
The present exhibition comprising authentic historical equipment introduces how aristocracy lived in the second half of the 19th century (prestige rooms, the suit of the count and countess, picture gallery, guestrooms, castle chapel). During the season, the castle traditionally hosts several cultural events: the Castle Children's Day in May, Music Festival in June, Harrach Fair in July, Garden Party in August, European Heritage Days in September and Christmas at the Castle during the Advent period. At some of these occasions, guides in period costumes, such as the "county family and their servants" show visitors round the castle.
Friends of golf will certainly appreciate nine-hole golf course set in the beautiful English park.
In 2002, the Hrádek u Nechanic was designated a listed building.
Opening hours
: April - October, the first two weeks of the Advent period including Saturdays and Sundays
Address
: Národní památkový ústav (National Monument Inspection Agency), správa státního zámku Hrádek u Nechanic, 503 15 Nechanice
Contact
: phone: +420 495 441 244, fax: +420 495 442 010, e-mail: zamek.hradek@tiscali.cz
www.hradekunechanic.cz
www.npu.cz
Other links:
www.golfhradek.cz
,
www.nechanicko.cz
Regular events

| When | Title and description |
| --- | --- |
| May | The nobles have arrived…! - visitors will be welcome by the "County family and their servants" and enjoy a tour of the castle with guides in period costumes. |
| June | Romantic Castle - a festival of classical and romantic music. |
| July | Harrach Fair - the castle comes alive with theatre performances, medieval marketplace, and display of folk crafts. Visitors will be shown round the castle by guides in period costumes. |
| August | Garden Party - summer party with good food and drink in an authentic pub, dance, fencing and falconers. |
| August | Encountering Folklore - festival of folklore ensembles on the castle's court. |
| September | European Heritage Days - The nobles are leaving…! - the "County family and their servants" are leaving their summer estate. |
| December | Christmas at the Castle - Advent concerts in the festive atmosphere of the castle, preparing English punch in the castle's kitchen. |