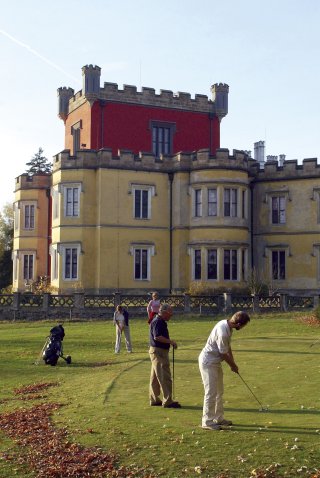 Hrádek lies 12 km to the west of Hradec Králové near the town of Nechanice. The first written record of Hrádek dates back to 1377. It says that Bořek of Hrádek was the owner of a local stronghold at that time. Later, the owners of the manor and the stronghold changed several times. The last owner of the manor was the Harrach family. In 1829, Arnošt Kryštof the count of Harrach attached the Nechanice manor together with Hrádek to his estate Sadová.
St. George's Church at the east end of the village is one of the most interesting monuments in the Hrádek village. The church is first referred to in written records in 1384. At that time, it was a wooden construction which got later badly damaged during the Thirty Years War. At the end of the 17th century, a new church was built on the same place. The new early baroque church was built together with a parsonage. However, only a part of the parsonage - the vault with the main pillar - remained preserved. At present, the remains of the parsonage can be seen in the local pub. The church, which was renovated in 1891 by the Harrach family, became a subsidiary church of the Nechanice parish. On the outer side of the church walls several gravestones are placed, the oldest of which come from 1518, 1521 and 1610. In the churchyard, there is a grave of the master builder of the Hrádek u Nechanic Castle, Karl Fischer. There are also several graves of the fallen from the 1866 Austro- Prussian War. Some graves are also found in the vicinity of the castle.
Regular events
When
Title and description
Hrádek u Nechanic Castle
May
The nobles have arrived…! - visitors will be welcome by the "County family and their servants" and enjoy a tour of the castle with guides in period costumes.
June
Romantic Castle - a festival of classical and romantic music.
July
Harrach Fair - the castle comes alive with theatre performances, medieval marketplace, and display of folk crafts. Visitors will be shown round the castle by guides in period costumes.
August
Garden Party - summer party with good food and drink in an authentic pub, dance, fencing and falconers.
August
Encountering Folklore - festival of folklore ensembles on the castle's court.
September
European Heritage Days - The nobles are leaving…! - the "County family and their servants" are leaving their summer estate.
December
Christmas at the Castle - Advent concerts in the festive atmosphere of the castle, preparing English punch in the castle's kitchen.
detailed information: http://www.hradekunechanic.cz/